Are you looking for the most vital goal in the overall best user experience? Then you must remember that Google has developed a content feed that renders the latest pages to users according to their preferences without performing any search function. 
Now, this latest feature is widely known as Google Discover, and it offers superb scopes for people who are willing to gain better outcomes with Google. Discover has a high click-through rate and it can generate a huge amount of traffic. So with this writing post, we are going to explore everything about Google Discover. So stay tuned with us!
What we are going to understand:
What is Google Discover?

How does Google Discover Perform?

Why Optimize Content for Google Discover?
What is Google Discover?
Google's one interesting feature is Google Discover that serves content to mobile users depending upon their basic interests, without going for a search function. 
If you think from an end-user point of view, Google Discover is a feed handly selected by Google on smartphone devices to offer videos and articles. Those content are get personalized by Google through related stories and searches. Users have the option to further customize what they see in their Discover feed by checking certain content. The outcomes in Discover transform regularly which depends upon users' changing interests and latest content publications. In 2018, this feature was first released, in line with the changes declared by this search engine for its upcoming 20 years.  
Where Do You See the Data?
If you can lead your website to a minimum gateway of impression in Discover, then you should sign into Google Search Console. There you will get a labeled Performance section displaying both reports Discover and Search Results. However, if your Performance section is yet ranked under Overview, then you have to work on high-end content development to compete in Discover.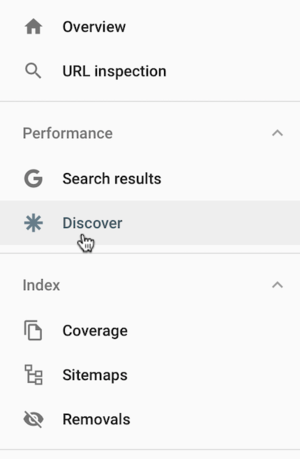 When you choose the Discover Performance report, you will get a more similar to the Search Results report that demonstrates Total Clicks, Average CTR, and Total Impression.  Google also serves a list of important pages that came up in Discover.  
How does Google Discover work?
You might already be thinking, "where is this resource that I have never seen?". If you search it over your PC screen, then you will never find it because Google Discover is only available on mobile. Hence, through your smartphone, you can instantly access this Google Discover in three different ways:
Through the mobile browser, by operating google.com

Through the Google app (iOS and Android)

With the sliding to the right on the home screen, on a few devices.
You will get a tab called Discover, in the menu on the bottom side, displayed by the asterisk symbol. This is the place where you will get this feed.
You could scroll through this feed just like on various social networks. These contents are represented on cards, configured by the title, an image, publication date, and the source. While a user touches the card, they are led to the page of content. You can check the below example:   
The appearing contents in the feed are naturally up-to-date. The maximum number of publications is mainly from a few days or hours before. However, Google could also render some older type of content that makes sense to the user. Additionally, Discover content could also include weather forecasts, videos, stock prices, movie releases, sports scores, music festival attractions, and more. In each content, Google chooses the most prominent format type. 
All your mindful queries showcase subjects that are a major part of your life and that Google knows are relevant to you. However, it's not all if you permit it, Google could access a huge information selection about your engagement on the internet. Let's have a look at which Google could use to customize Google Discover's contents:
Location and history settings:
It includes those places that you have visited, along with those locations of your work and home. 
It includes the usage of Chrome history, Google Search, apps, websites' actions, and devices using Google services, devices' contact data, voice, and audio recordings. 
All this creates the algorithms that fix which content needs to appear in Google Discover for every single user, in a completely personalized way. Apart from that, Google knows that it will not be correct every time. Hence, the application does faith in the user's tie-up to develop a more relevant content feed. This is the reason, the user has multiple choices to customize their feed.
Why Optimize Content for Google Discover?
Now you know what is Google Discover and how it works. As a user, you can currently enjoy the application's discovery suggestions! However, as a marketing expert, have you understood that you can take benefits of this feature for SEO strategies? 
Google Discover is another good platform to enhance your organic traffic and visibility on website pages. While Google Discover had first come, the official declaration informed that Google Feed had already 800 million users each month. According to the HubSpot reports, a few sites observed spikes in smartphone device access in 2019. The investigation reason said that they realized a massive part of these accesses belongs from Google Discover. For instance, in the Vogue website case, the accesses performed by Discover even overlapped the traffic generated by organic search.