When it comes to mobile operating systems, the difference between Android vs. iOS has always been the epicenter of the debate. While it's impossible to deny that these mobile operating systems (O.S.) are extensively dominating the mobile industry, the predicament in which these mobile operating systems are better remains an unresolved problem.
It is an undeniable fact that smartphones will rule the digital world for the foreseeable future. Before understanding the differences between Android and iOS, it is vital to understand the growing need for smartphones in-app marketing services. There are various reasons for that. A smartphone is a gadget that fits in all pockets, by price, type and size. They assist users in different ways; they get addicted to it. The only obstacle was to express and reasonable internet connectivity. But, now the high-speed internet is accessible to everyone. Thus, the entire world is joining this unparalleled digital revolution.
As of December 2019, the Android world accounted for a 74.13% market share in the global mobile O.S. market. iOS and Android began in 2007, and by 2020, both of them account for over 99% of mobile operating systems around the world. Both platforms have been unsettling and instill certain advancements over the years.
The thriving entrepreneurs across the globe are utilizing these platforms to come with their robust business apps. The mobile app development world in online marketing has witnessed a remarkable following in recent times, owing to the rise of Android and iOS apps. With newer versions of the operating systems, app marketing services are going more professional.
Global Statistics iOS vs. Android
Smartphones administering the Android operating system embrace an 87 percent share of the global market share in 2019, and it is projected to enhance over the coming years. The mobile operating system developed by Apple (iOS) accounts for a 13 percent share of the market. Annual sales of smartphones have enhanced to over 1.56 billion units globally. They are now accessible to everyone and not just those with riches. The cost of buying a smartphone continues to descend each year, with the worldwide average price now being around 215 U.S. dollars. The cutthroat competition within the smartphone market could be one of the prominent reasons why prices are declining. Samsung (South Korea) and Apple (U.S.) have traditionally held large global smartphone production shares. Chinese smartphone companies like Huawei, Xiaomi, Oppo, and Vivo have become powerful alternatives that are proving well-liked worldwide.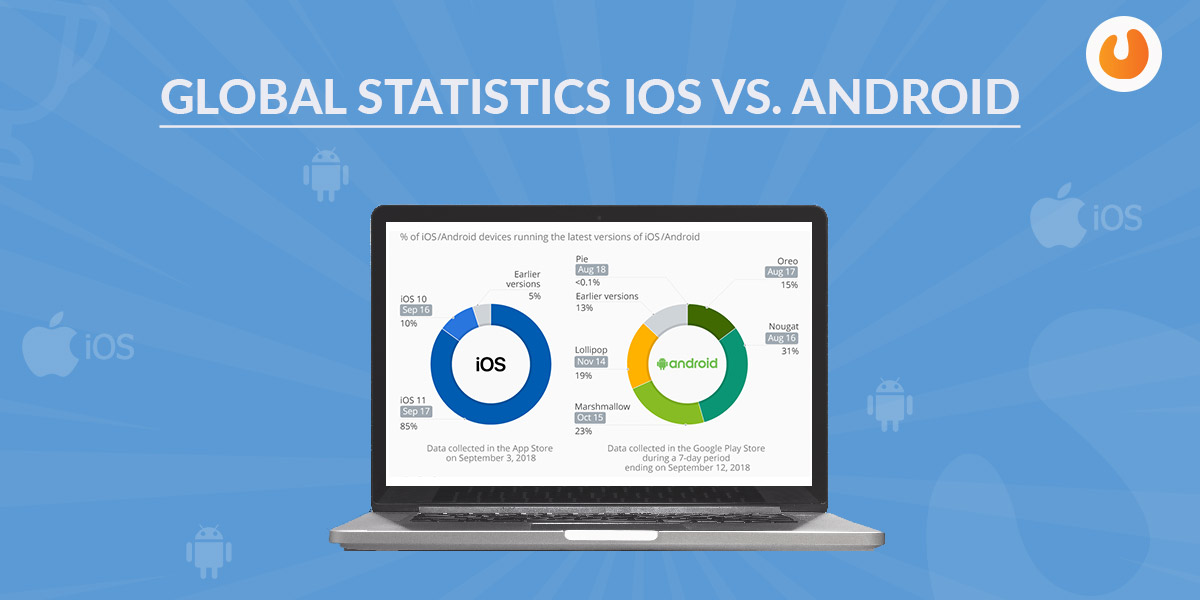 Apple iOS continues to hold its large share in online marketing within the United States, capturing more than half of the market in May 2020. Apple's market share of smartphone users has increased around 20 percent since early 2012; however, its unrelenting growth in the United States goes against a global trend that has witnessed its market share of smartphone shipments plunge to over 10 percent.
Apple or iOS is an American company which is headquartered in California. It is best known for developing the most expensive brand in the United States, with more than 105 million iOS marketing services in the nation. The numbers that are already startling are projected to rise over the forthcoming years and can, in part, be accredited to Apple smartphones ranking highly in users' happiness and satisfaction. Among seven different Apple models, the iPhone X.R. was considered one of the best selling models in 2019.
https://www.statista.com/statistics/266572/market-share-held-by-smartphone-platforms-in-the-united-states/
Android, nevertheless, still holds the common share of the United States android app marketing service and has been prevalent for several years. Brands like Samsung, Motorola, and L.G. have happily accepted Android as their mobile O.S. The sales of their devices account for over 50 percent of all smartphones sold in the United States. The revenue of Samsung smartphones alone makes up for 28 percent of the app marketing services. It is expected to mount in the future with research showing the Galaxy series of smartphones rank highly for user satisfaction among Americans.
However, the good news is that both platforms live up to customers' expectations with its efficient and resourceful deliverables. Some might agree that the Android platform is superior compared to iOS, while some state otherwise.
To clear the air between these ambiguous lines, we have compiled notable differences between Android and iOS operative systems. The differences here include these platforms' features, cost-effectiveness, performances and much more. In each category, we have optimized the major differences to conclude a winner. Ultimately, marketers will be able to decide which platform is better for online marketing.
Interesting facts and figures about Android vs. iOS Market Share:
Google Android and Apple iOS account for more than 95% of the global market share for operating systems globally.
Android's market share is expected to surpass 87% in 2022, research studies suggest.
The iOS market share in 2019 stood at 22.17%.
iOS operating system accounts for over 50% of the U.K. market share in 2020.
Research studies about Android vs. iOS market share in the U.S. depict that the market leader seems to be Google Android, accounting for more than 50% market share in June 2019 alone.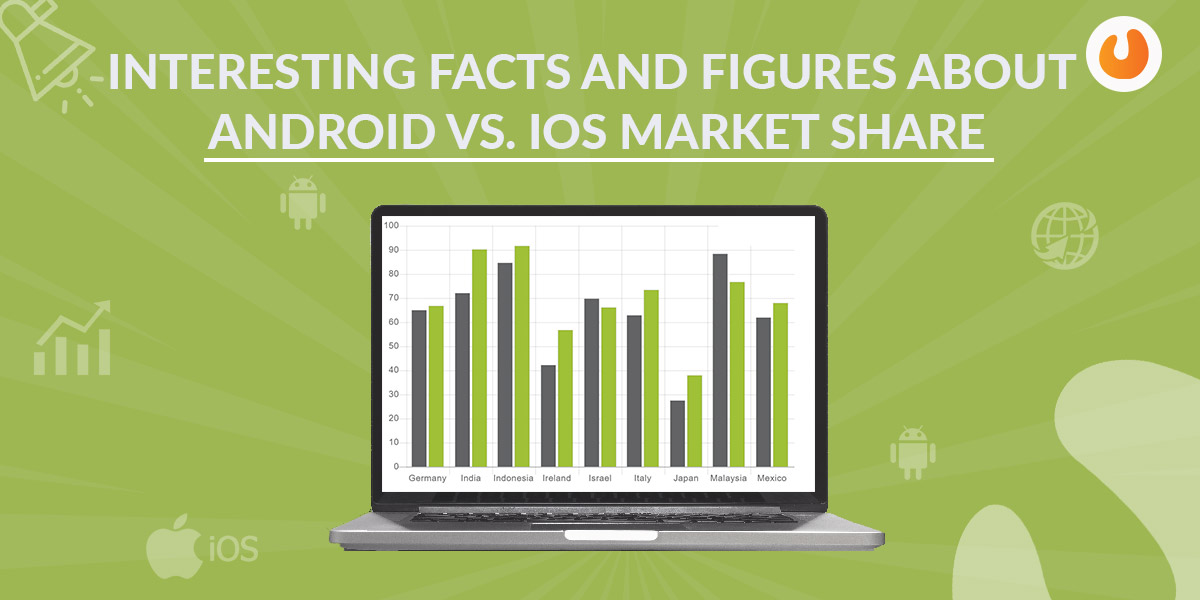 The revenue of smartphones leaped from over 139 million devices in 2008 to more than 1.54 billion in 2018, leaving a strong impact on the mobile O.S. market share.
Between 2012 and 2019, the number of iOS users increased by 20%.
In 2017, the number of Android smartphone users stood at 2 billion monthly across the globe.
After having a complete understanding of iOS and Android operating systems' global statistics, we will dive into the specific components that differentiate the two from each other.
Also, Read – How to Perform Technical SEO Audit?
Smartphone App Stores
One thing that primary component that differentiates the two platforms is their 'Apps Store.' Though both of the apps stores work on similar purposes, usability can is uniquely different. With the myriad of applications available on the internet, it isn't easy to rationalize, which offers a more wide-ranging variety of applications.
The App Store is known to have a stringent app review process compared to the Google Play Store. It means that the Apple App Store does not let marketers publish their app if it doesn't meet their particular set of guidelines. It has more instructional criteria that one needs to follow as compared to the Google Play Store.
However, the App Store has designed the store with a sophisticated app review system, and due to this, one can easily publish the app on the App Store quickly than before. The App Store, however, focuses more on the quality; hence, if the app is not up to the mark, the app store would not allow you to publish it. Moreover, Apple can also eliminate your app from the App Store if it is not regularly updated with add-on features and doesn't comply with the guidelines anymore.
Google Play Store, on the contrary, provides marketers with enhanced apps compatibility to all Android devices. As compared to some apps on the Apple Store, some apps might work on an iPhone but not on iPads. In the end, Apple's apps store won over Google Play Store in different ways. These ways include the application features, selections, broad category choices, and more free applications to download. Android app marketing service uses both programmed tools and human reviewers to opinionate submitted apps. It means that apps that are dangerous to users like apps, including malware, are found and rejected.
A similar aspect among these operating systems is the pure vividness of Apple's platform for development. iOS has seen many advancements and innovations over the years. Most essentially, Apple's support for Swift as chief iOS development language has made the platform more fascinating. Swift has made iOS apps more powerful than ever.
 2. Cost-effectiveness
The iOS operating system has always been winning the race when it comes to price and has always been out of reach. The perfect example of this can be picked from iPhone X, which sets new heights of advanced features and price when considering affordability. The cost of the iPhone X starts from $1,000, and if you want some more features or specifications, you can opt for iPhone X Max, which starts at $1,100. If you are looking for something that suits your pocket, you can also opt for iPhone X.R., which starts at $750.
The iPhone 8, on the other hand, will cost you $600. If it is still not cost-effective for you and you don't want to invest a handsome amount, you can also look for the years' old iPhone 7. It will cost you over $450. The older the model iPhone is, the lesser it would cost you. The cost will decrease more if you opt for these phones in the secondhand market. If you are looking for more reasonable smartphones with a wide variety to choose from, nothing can beat Android in this domain.
There are various affordable options for Android lovers in this domain. You can go for an Android phone even if you have fancy for expensive choices like Google's Pixel 3 XL and Samsung's Galaxy Note. It gives the iOS operating system a commendable competition when it comes to price and affordability. Online marketing for Android users can also be as classy as Apple's.
But marketers can also get a gigantic option in pocket-friendly smartphones with a wide variety of manufacturers providing a lot of features. But the choice is with users, which marketer you will go for or which suits your pocket. Android is also a robust option for users with low budgets. Those who want to shop for a smartphone with enhanced features is the fact that this operating system provides with so many free apps that users can easily access or are pre-installed on the phone.
Thus, when it comes down to a platform that offers a more reasonable and inexpensive type, Android would win the bout as it provides more features and free apps while still being a cost-effective choice for marketers.
Also, Read – 12 Ways to Promote a Local Business Online
3. App design
Android and iOS operating systems are competing with each other in terms of designing apps with unique features. Android platform offers amazing design features for any app. Most of the app development marketers can influence Android Studio for a robust design. App design requires a sophisticated architecture with all the micro-services that develop a set of responding systems.
Android-based applications design discovers micro-services rather than monoliths. The monoliths design comprises app modules on the top with all the specifications control. It responds to customer requests single-handedly, leading to an overload. With Android's exclusive app design, an android app marketing service can easily use autonomous micro-services to counter user requests via a suite.
On the other hand, the iOS platform does not offer an in-built modulator for micro-services. IOS marketers can utilize NetworkingServiceKit for a typical monolith iOS client. It is a customary networking micro-service to split the iOS monolith design and offer seamless networking to a customer.
4. Android vs. iOS platforms app development
The development of apps becomes comparatively easy in iOS with the simple syntax of the Swift language. On the other hand, Android operating system development requires good app design and structure for strong development. Android is an open system developer has direct access to open depository for superior development options. With Android O.S., marketers can discover tools like Android Jetpack and Firebase for exceptional development.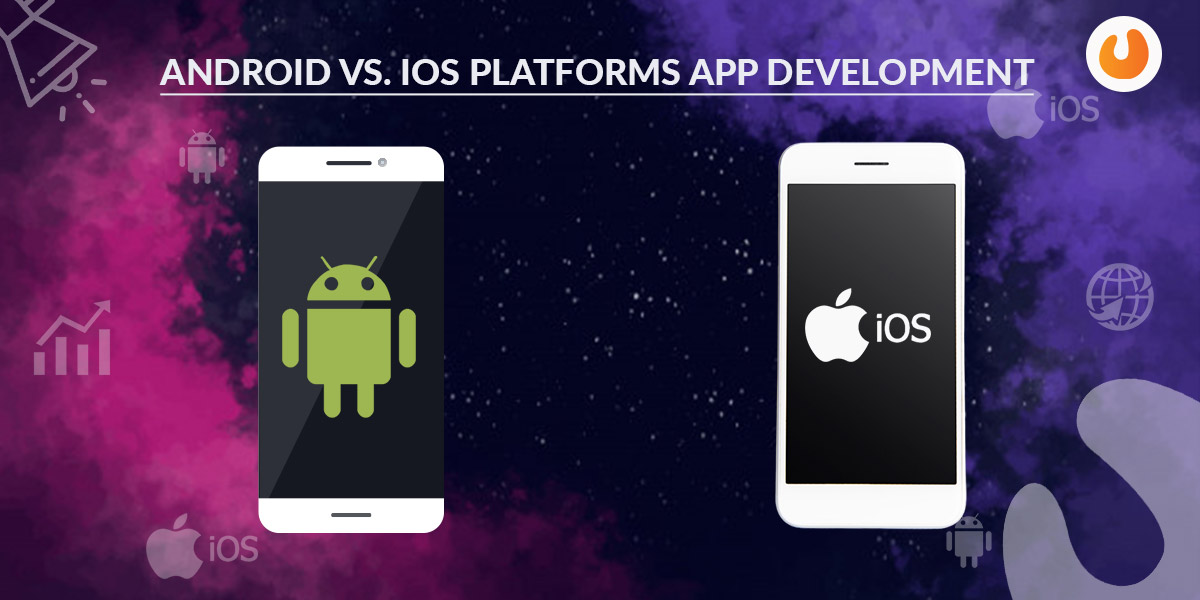 On testing grounds, however, Android can be a nightmare for app testers. But, with iOS linked only to iPhones, the testing procedures become comparatively easy. When it comes to applications' U.I. or user interface, iOS stands out. There is an explicit style guide offered by Apple for iOS developers to follow. That is why iOS apps are reliable in exceptional U.I. Designs. Developers can discover tools like Swift playgrounds, Xcode, and TestFlight for superior iOS development.
5. Charging and Battery Life
One of the biggest alarming aspects of smartphone users is battery life. Since there is no universal hardware, assessing the battery lives of the two Operating Systems is difficult. Charging and battery life are some essential features for any marketer for online marketing of smartphone devices. Though iOS developers try to compress out the battery per mAH Android, in the case, it will effortlessly surpass the iOS because the battery of Android O.S. is designed to last more than that of Apple's smartphone.
Both Android and iOS operating systems will depict how much of the phone's battery has been consumed. However, if you want to know how much of the battery is left, only Android will help ascertain the battery life. Android and iOS comprise a power-saving attribute that will add more to the battery life by restraining performance, connectivity, and other power-saving features, but specifically how it works is usually more customizable on Android.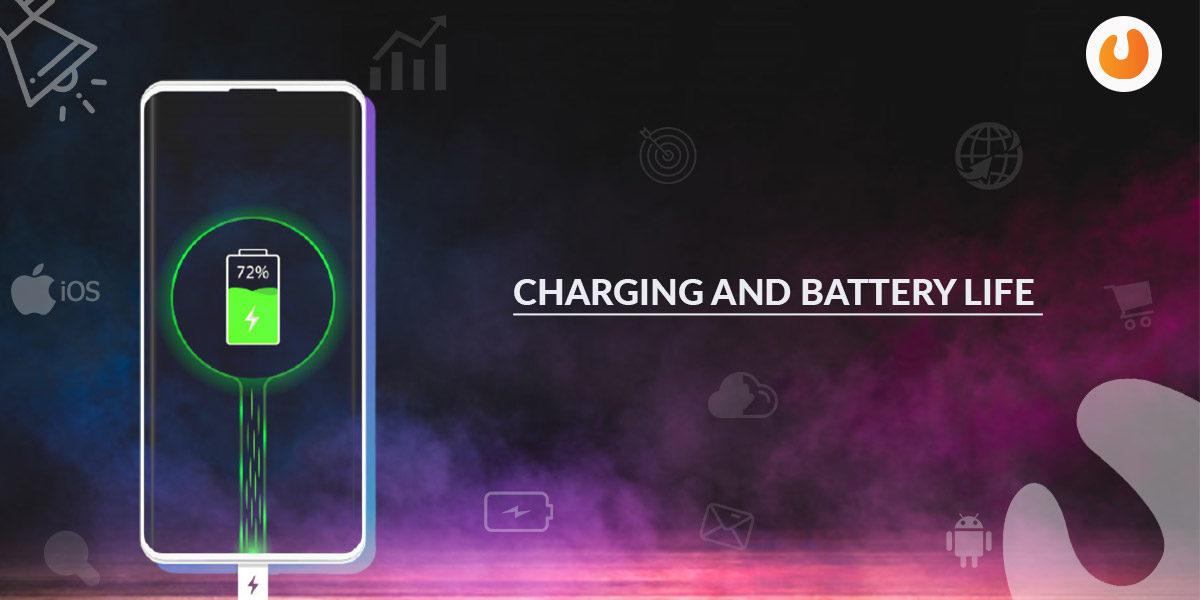 Various Android smartphones are competent for fast charging and also offer wireless charging, so Android wins in the section of battery life and charging. When it comes to Apple's smartphones, the user would have to buy a fast charging adapter separately, and the charger comes along with the box of an Android smartphone. Thus, the winner for better battery life and superior charging is, undoubtedly, the Android as it comes with the speedy charging adapter and will endure longer than Apple's iPhone. To be more specific, Android provides better flexibility and options for customization to improve devices' performances.
6. Cloud services
Cloud services are another important factor in high demand, especially when almost everything is turning digital. While both Apple and Google operating systems offer basic cloud services, which is to robotically backup the device's data, this service can be warranted by its capability and uploading speed. Google provides storage up to 5TB while Apple's is restricted at 50GB. One thing that Google outperforms most is the free 15GB cloud service and comprises cross-platform support.
At the same time, Apple customers are allowed to access only 15GB free storage space on iCloud. Also, iCloud is compatible only with Windows, macOS, and iOS. Though both iCloud and Google drive provides the option to advance its cloud storage, the cost is considerably different. Recently, the Apple cloud provides spirited prices at 50% off of Google Drive's package for $1 per month for 50GB. The cost for 200GB stands at $4 per month. However, if you require a higher capacity, Google drive is reasonably cheap, considering you're spending $10 per month for 2TB, and you'll only get 1TB from Apple's iCloud.
7. App development cost for Android and iOS
The development cost of app development proper estimation before the commencement of the app development process. Here, the operating system that comes with multiple screens for deployment requires more time for fruitful development. It makes Android a bit expensive in terms of development. iOS has a comparatively limited number of platforms for deployment, and that is why it has a relatively low development cost.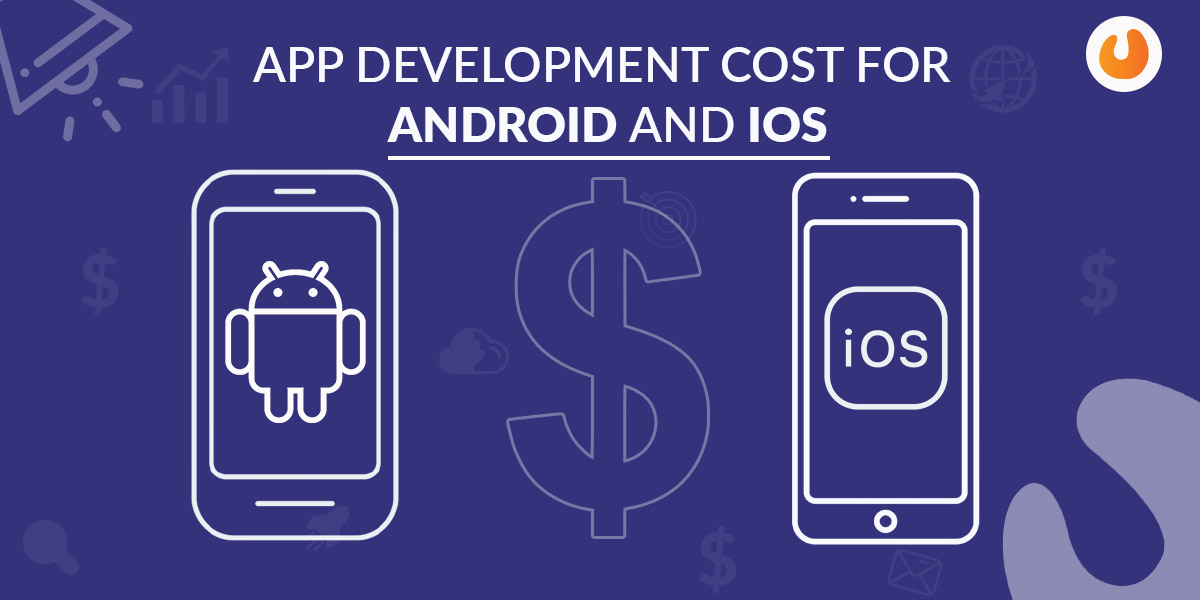 Some of the app development cost points for online marketing:
Common apps, for Android or iOS, range between $5000 and $15000.
For e-commerce apps inclusive of payment gateways incorporated, it may take more than three months to develop.
The cost of these apps ranges between $20000 and $30000.
More sophisticated apps with API integration may take the cost starts from $50000 with a minimum of 6 months of period.
8. Device and app updates
The iOS operating system usually supports new iPhones and iPods with the latest updates for five to six years post the release date. Generally, all the iOS devices get the same updates at the same time. With Apple, one can get the latest features and apps, control new photo and video formats and security protocols. The patches for both online security threats and flaws are also included in this, which will enable users to get admittance to the phone and steal data from it.
The oldest android and iOS versions might not be able to sustain every single feature offered by the update but can utilize the functional features and security updates. When it comes to Android smartphones, only a few devices that comprise Google Pixel are ensured prompt updates, but still, that update will be provided for up to two to three years from the date of release. So if you require bug fixing, timely security updates, and advanced features, you should choose iOS and a clear winner in this field. The app marketing services for any marketers are also dependent on the latest Android and iOS devices.
Android is more intricate than iOS, and observation has prevailed, but you do not need to dive into the customization options. Both of the Operating Systems provide great accessibility of features. If you are looking for a phone for a non-tech-savvy, then you'll find some dedicated offerings on Android, but they tend to bring down what's possible.
Final Thoughts
The world of app development for marketers has always been enthralling. The global business is witnessing the ascend of the on-demand economy, and with it, online marketing is getting bigger. Whether to go for an Android or an iOS still will be based on the users' choice for unique features and app designs. Those who want to have full control over the phone, avail various customization options, want to have a bigger display and improved battery life, then go with the Android. In terms of app stores and the versatility of apps, both Android and iOS, stand almost equal. But because you have to put important things on home screens and hide less useful apps in the app drawer, Android is a better option for managing apps. Also, Android widgets are useful as compared to Apple.
As far as security is concerned, iOS apps are more protected and safe than android devices. The android operating system has to deal with various screen views and a large scale of phones. An iOS operating system, on the contrary, gets the unmatched security of Apple's devices. The latest versions of iOS have been more insistently designed with a highly secure operating system. It also enjoys the benefit of encryption of iPhones as a safe way to deal with threats. Apple is best known for its security. The brand strongly emphasizes users' privacy beyond anything else. And what Apple does was to highlight the data encryption by intensifying mobile convenience with TouchID and Face Recognition.