You must have come across terms like Hootsuite and Buffer, especially if you are a business owner and using various social media platforms to market your product or services. Well, if you haven't heard these terms, then let me brief you. Both Hootsuite and Buffer are social media scheduling tools used widely for scheduling posts on platforms like LinkedIn, Twitter, Facebook, etc. Now let us understand the concept of both these scheduling tools separately.
Hootsuite: An Overview
As mentioned above, Hootsuite is a social media scheduling tool that is enriched with extensive features to appeal to businesses of all sizes. It is one of the perennial tools for social media marketing that integrates with a wide range of social networks and offers a dashboard for managing all of your social media activity in one place.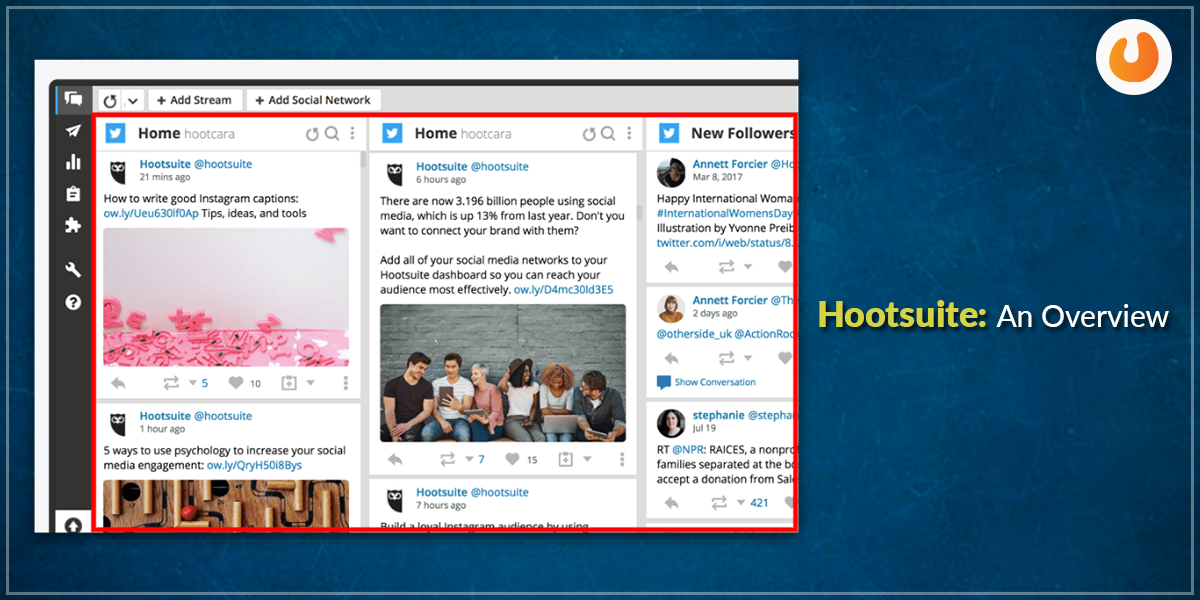 The sole proprietors or small businesses can find their requirements met by the free Hootsuite account option. Meanwhile, the cost of a subscription can increase rapidly in terms of larger business houses.
Buffer: An Overview
Buffer is tailor-made for smaller social media teams, and it is easy to set up and navigate. Buffer comes with advanced features and reliability. It also gives a new content creation tool named Pablo, which is a handy addition to the platform and helps make up for the lack of Google Drive integration.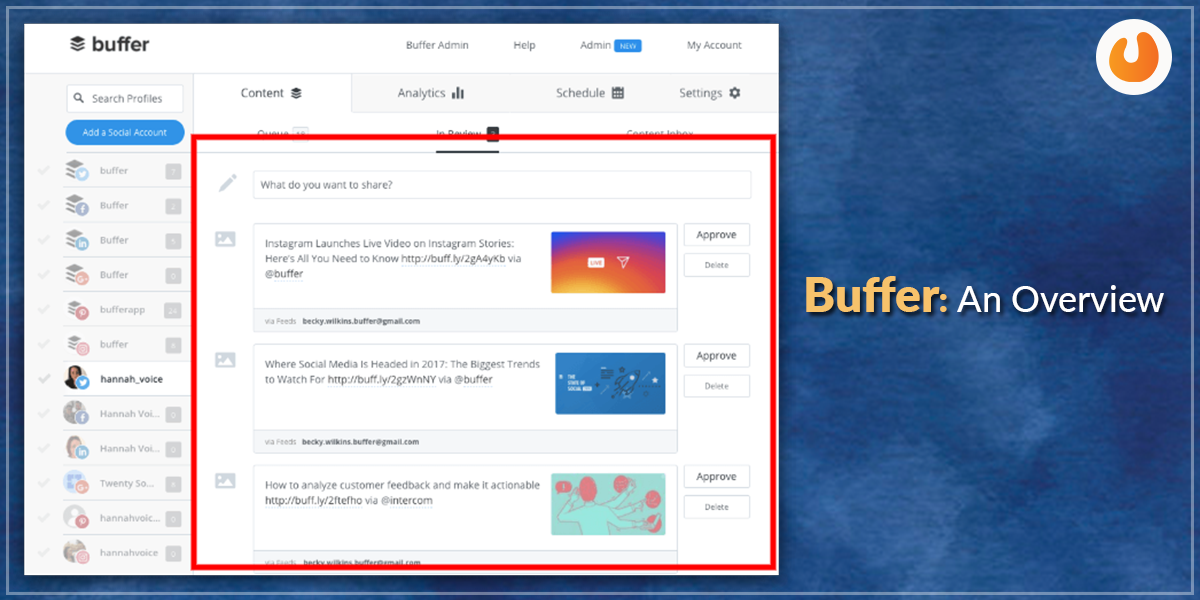 In order to gain access to the platform for multiple users, you will need to upgrade to the business account subscription.
Also Read – Social Media Management Tools for Businesses of All Sizes
Hootsuite VS Buffer
Here, we have differentiated between Hootsuite and Buffer considering some factors. Read on to know which particular tool stands with authority.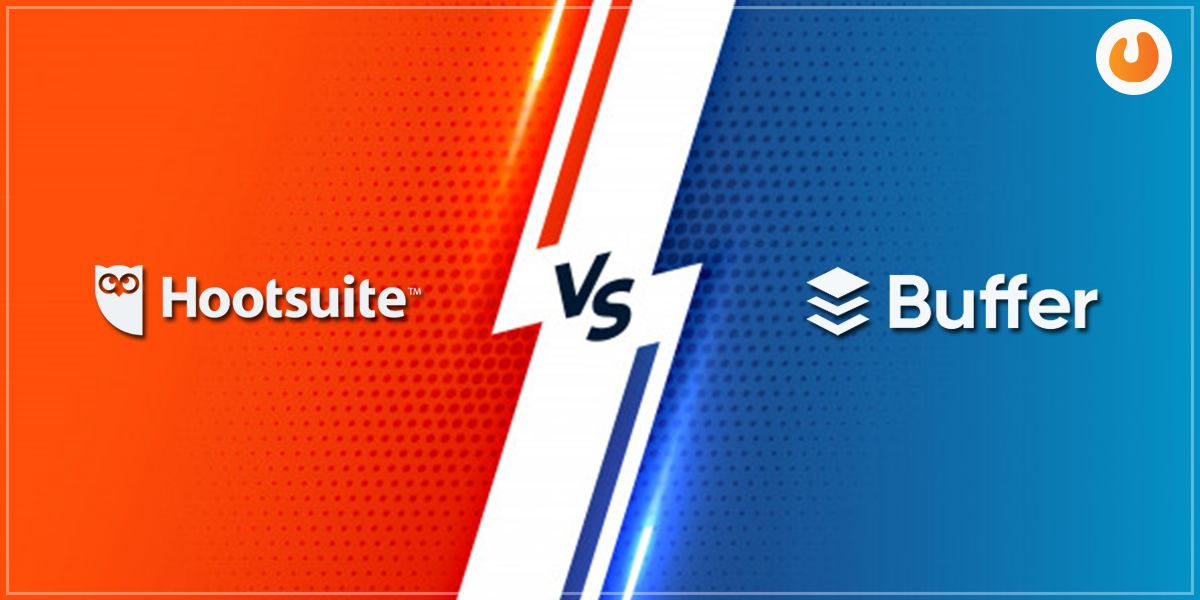 Ease of use
Comparing the two on this parameter, we found that,
Buffer: It has a cleaner and well-organized layout and user interface. It is visually appealing and helps users to work on the interface with ease.
Hootsuite: Hootsuite too is easy to use and doesn't have a sharp learning curve to become a power-user.
Post Scheduling Functionality
Social media tools are generally used for publishing content. By scheduling posts on social media, you look organized and appear active on social media platforms. But in reality, you are logging in just a few times. Scheduling is done in huge numbers in terms of Facebook marketing and other social media marketing platforms as well.
Buffer: Buffer has made some remarkable acquisitions in this case, and it now allows scheduling of posts over a month in advance. Buffer had the functionality of Instagram schedule way before Hootsuite, and with remarkable improvements, Buffer now ties with Hootsuite on this parameter.
Hootsuite: Hootsuite comes with the most impactful scheduling functionality and applies to all social media channels.
Third-party app integration
The ability to integrate multiple applications is also a vital factor of comparison between the two tools. Both Hootsuite and Buffer offer third-party app integrations with their tools. Medium to large companies do perform integrations regularly, but the smaller firms don't readily utilize the same. Let us now compare the two tools on this parameter.
Buffer: Buffer offers a long list of "extras" that include third-party integrations, tools, and add-ons. The integration of third-party apps mostly consists of other content creator tools instead of content management systems and other marketing dashboard tools.
Hootsuite: The third-party integrations offered by Hootsuite includes Google My Business, Spotify, Canva, Zendesk, and others. The list of Hootsuite's third-party integrations is longer and valuable as compared to Buffer.
Content recommendations
If you are a budding social media manager, content recommendations is a vital aspect.- This generally helps when you are not too sure what you can post. Let us understand this in terms of Buffer and Hootsuite.
Buffer: At one point in time, Buffer did have content recommendations, and they pulled support for this functionality. Content recommendations were on the money for Buffer and dealt well with the same.
Hootsuite: Hootsuite does a much better job than its counterpart and rightly wins this category.
Pricing
The feature-rich technologies do confuse people with their price structure. Both Hootsuite and Buffer are about the same as both offer the freemium model, i.e. both paid and free.
However, when compared based on the paid version, Buffer is more affordable than Hootsuite. Even as it lacks powerful reporting functionality at the base level.
Time to wrap up: For medium to the enterprise user, Hootsuite is definitely worth the pick, as it covers more ground than Buffer. For small businesses, Buffer is the best as it is a slick tool that gives you the privilege to do what you wish to do. When it comes to customer support teams, Buffer is still a better choice than Hootsuite.- This is because of its new Reply solution that helps Buffer to take the lead over Hootsuite. I hope this would have helped you a lot in understanding which particular tool is best for a particular business scale.