Effective digital marketing services focus on promoting a particular product or service and influence your customers to act — to obtain further information, register their interest, visit the website, make a booking, or creating click-worthy ads for your brand.
Online marketing services offer you a chance to promote your products and services directly to your target audience, which requires them. A good direct marketing campaign will:
help you fabricate relationships with new customers
examine the demand for your product or service
ascertains you which marketing approaches reach the target market
offer customers with engaging content they can share with prospective customers
enhance sales
However, direct marketing campaigns need watchful planning and a comprehensible understanding of responsible natural marketing practices. Understanding the benefits and best practices of digital marketing services will help you use the marketing strategies effectively.
In this write-up, we will dive deep into the top direct marketing practices one should adopt for thriving businesses in 2020.
What is direct marketing?
Direct marketing is one of the most successful marketing methods, and it has many advantages, such as quantifiable results. Direct response marketing is a type of sales method designed to induce an on-the-spot action and persuade a prospective customer to take action by opting in the marketer's offer.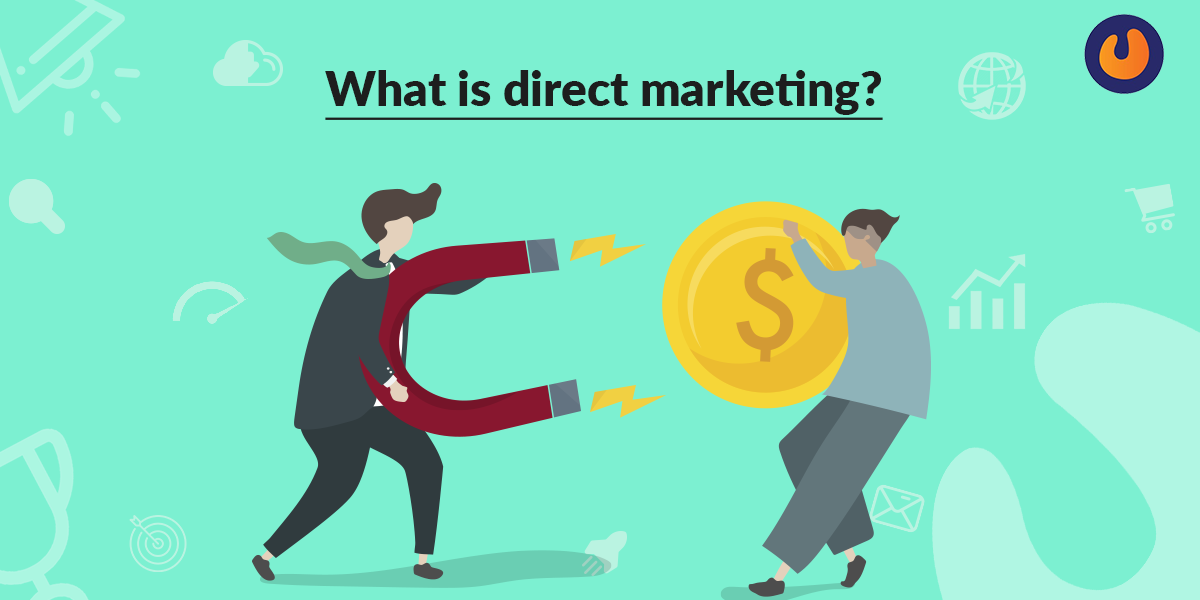 Unlike other marketing techniques, the direct response needs little or no time waiting to see quantifiable results. Marketers can access the performance of their ad right from the launch of the campaign. Direct marketing offers the delivery of a "call to action" via direct or online communication. Some of the types or examples of direct response marketing ads are:
TV advertisements
Websites advertisements
Online ads
Print media marketing
Radio spots
When it comes to the digital marketing concept, one can easily recognize these ads as social media ads or pay-per-click (PPC) ads.
These ads aim to turn visitors into permanent users by influencing them to act immediately. These ads make the best use of calls-to-action (CTAs) that affect users to take action. It would help if you designed an ad that has the potential to trigger immediate feedback and movement.
Read Also – 5 Advanced Facebook Advertising Tips to Improve your Campaigns
Major attributes of direct marketing ads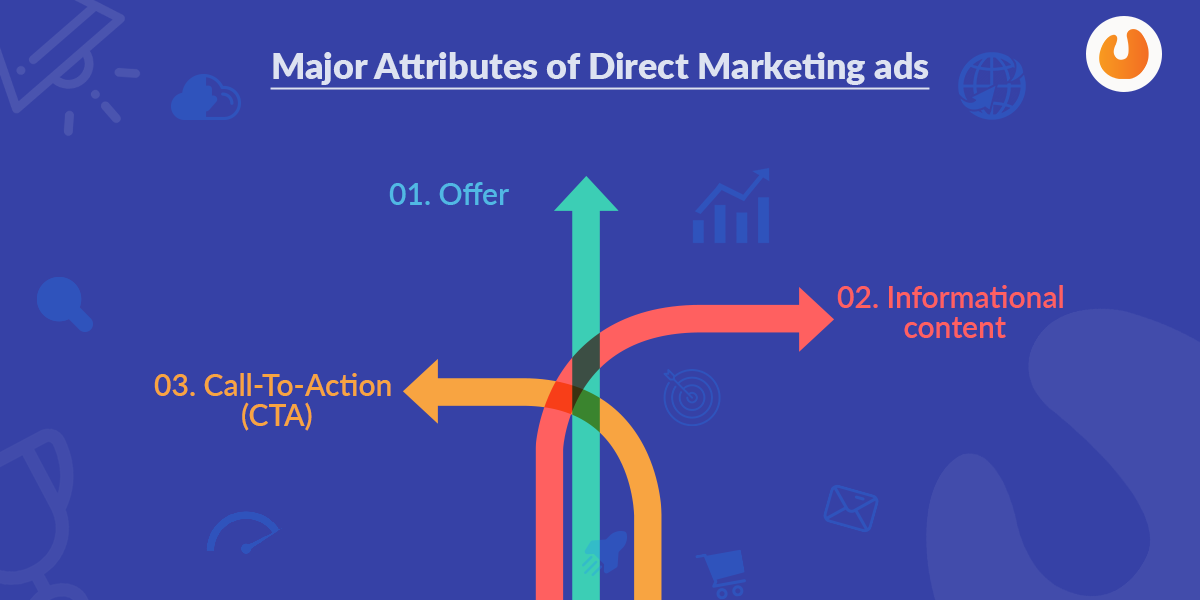 Let's have a look at some critical characteristics of direct marketing ads:
An offer implies an ad offering something to the target audience, who respond to it immediately due to its incentivized nature, such as free products or coupons. The offer in digital marketing services aims to create and maintain the audience's interest in a particular product or service.
The informational content is directly proportional to the product's popularity or service to convert that information into an end sale. The data needs to be grasping, precise, and to-the-point for direct marketing.
As the term implies, the ad content must create an interest component in the audience's minds to entice a prompt action to proceed to click on the ad. The ad must induce the audience to indulge and be associated with the whole concept.
What best defines a perfect direct marketing ad?
For creating a quick response, the ad must be specific, target-oriented, precise, and clear about its objective of optimizing the audience experience. If direct online marketing services fulfill these ingredients, the campaign is bound to be successful.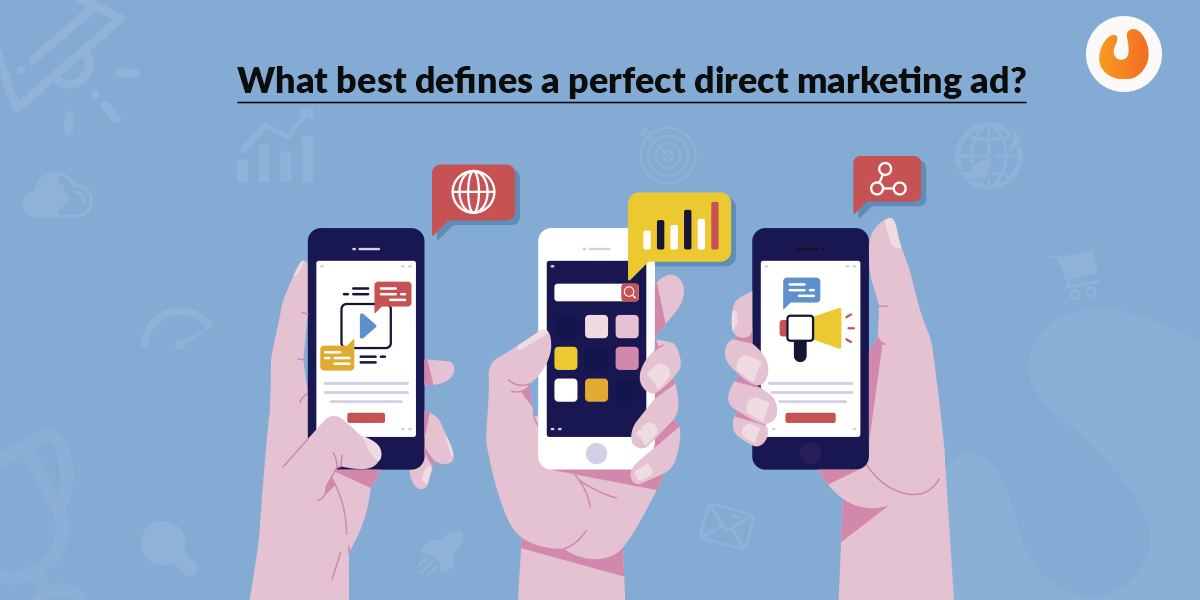 Five direct marketing great practices for creating impactful ads
The target audience's responsiveness depends on the elaborate yet simplicity of the expression of the response ad. The message in direct marketing must be clear and easy to understand for the audience to respond accordingly. The catchy tag line must lead the user to a landing page with adequate information and offers, attracting maximum response.
Generate curiosity by limiting your offers
The offers need to mention the time-lines or the time-limits to get prompt action on the audience. In digital marketing services, the time must be reasonably appropriate yet short to avail of the offer.
Keep your guidelines clear and precise. 
The guidelines need to be made crystal clear for all the participating audience to understand and follow to take advantage of a particular product or service incentives associated with the offer. The sequencing of a specific path to be followed in direct marketing must be mentioned and made available to the audience. These clarity clauses help to create trustworthiness and invite a positive response from the target audience.
FREE! It creates buzz around your brand.
The freebies are an added attraction for incentivizing a particular objective in digital marketing services. Customers are always looking for free offers from service providers to fulfill their shopping experience. The free offers help create a long-lasting interest in the audience's minds towards a particular product or service and encourage them to return for another visit.
Track and analyze your ad campaigns
For understanding the entire concept of creating business volume by incentivizing the target audience experience of a particular response ad, the tracking process is a must. The target audience's response towards the online marketing services can be easily tracked as these come with a unique URL or code that can be tracked to witness their response. These help better understand the course of action to be adopted to optimize target audience involvement in a particular product or service.
Conclusion
Digital marketing services help attain effective leads by engaging them via enticing offers. It's a brilliant technique for helping you bring new prospects that you can turn into potential customers. If you are facing trouble in running a successful direct marketing campaign, BrandBurp can help. Our professional team of marketers will guide you in bringing new customers and retaining the older prospects.